Bike rentals in Carmel and Mill Valley
| | |
| --- | --- |
| 1 day | $75 |
| 1 hour (afternoon walk-ins only) | $30 |
| Each additional hour | +$15 |
---
Extras
Pet Tow-behind or kids tow behind is available for use for an additional $10 per day.
---
Hourly rentals on all bikes are available for same-day walk-ins after 1pm and are based on availability
---
Dual Bosch battery/ up to 150 mile range. Each bike will hold the rider and an additional adult or up to two children can ride on the back- 400 lb max… we can provide up to two Yepp infant seats (for children up to 49 lbs) or a bench seat with or without rails for older kids or adults to sit on the back at no additional charge.
---
Vintage Style Limited Edition E-bike (with or without sidecar)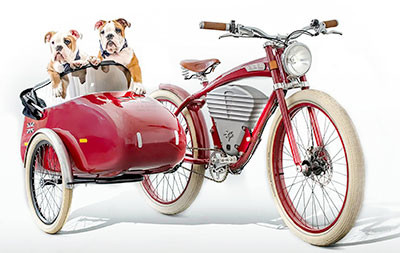 | | |
| --- | --- |
| 1 day | $95 |
| 1 hour (afternoon walk-ins only) | $45 |
| Each additional hour | +$15 |
Note: 100 lb max in sidecar/ 275 lb combined max for rider and cargo – only meant to carry children and pets
---
This is a 7k Vintage Electric E-bike (electric bike) with throttle and pedal assist, and a $2000 custom sidecar
We are the only bikeshop in the US where you can rent this amazing bike and sidecar – a truly unique experience that we are proud to offer as one of our bike rentals. 
---
Butchers & Bicycles or TrioBike Mono Cargo E-bike
Holds up to two children or a dog up front in the cargo box.
---
If you are interested in purchasing this bike you can rent our demo bike for the day and we will credit rental fees towards your purchase. 
Note: Only available for rent from our Mill Valley shop.
Mill Valley Lumber Yard Promo: Free one-hour rides every Sunday in November and December at our Mill Valley shop. 
---
Full Suspension Off-Road Turbo Mountain E-Bike
| | |
| --- | --- |
| 1 day | $85 |
| 1 hour (afternoon walk-ins only) | $45 |
| Each additional hour | +$15 |
---
Extras
Thule Hitch-mount ebike rack available for $10/day.
---
Available in small, medium and large
These bikes retail for 5-6k each and are the best full suspension e-mountain bikes available.
Coming Soon: 2021 Levo Expert SL bikes for $125 per day
---
Performance Turbo Road E-Bike
Specialized 2020 Turbo Creo SL or Creo Evo
Road bikes: Clipless pedals are available at no additional charge. We try to have the most popular pedal systems on hand but please call in advance to check if we have yours. 
Please bring your own shoes. A spare tube, helmet, pump, repair kit and a seat bag are provided with each road bike. 
Enquire about renting a bike